The GNOME 3.26 release cycle is in its final bugfix stage before release.
Here's a look at what's new in GNOME Tweaks since my last post.
I've heard people say that GNOME likes to remove stuff. If that were true, how would there be anything left in GNOME? But maybe it's partially true. And maybe it's possible for removals to be a good thing?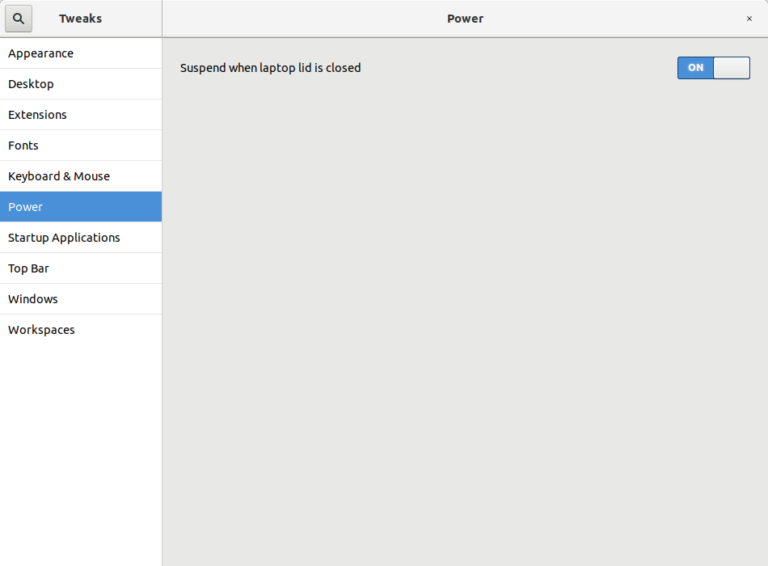 Removal #1: Power Button Settings
The Power page in Tweaks 3.25.91 looks a bit empty. In previous releases, the Tweaks app had a "When the Power button is pressed" setting that nearly duplicated the similar setting in the Settings app (gnome-control-center). I worked to restore support for "Power Off" as one of its options. Since this is now in Settings 3.25.91, there's no need for it to be in Tweaks any more.
Removal #2: Hi-DPI Settings
GNOME Tweaks offered a basic control to scale windows 2x for Hi-DPI displays. More advanced support is now in the Settings app. I suspect that fractional scaling won't be supported in GNOME 3.26 but it's something to look forward to in GNOME 3.28!
Removal #3 Global Dark Theme
I am announcing today that one of the oldest and popular tweaks will be removed from Tweaks 3.28 (to be released next March). Global Dark Theme is being removed because:
Changing the Global Dark Theme option required closing any currently running apps and reopening them to get the correct theme.
It didn't work for sandboxed apps (Flatpak and Snap)
It only worked for gtk3 apps (it can't work on gtk2 apps)
Some themes never supported a Dark variant. The switch wouldn't do anything at all with a theme like that.
Adwaita now has a separate Adwaita Dark theme. Arc has 2 different dark variations.
Therefore, if you are a theme developer, you have about 6-7 months to offer a dark version of your theme. The dark version can be distributed the same way as your regular version.
Removal #4 Some letters from our name
In case you haven't noticed, GNOME Tweak Tool is now GNOME Tweaks. This better matches the GNOME app naming style. Thanks Alberto Fanjul for this improvement!
For other details of what's changed including a helpful scrollbar fix from António Fernandes, see the NEWS file.